Horse Trade Theater Group
& Mocador Productions Present:

A Play About Love,
Surrealist Poetry and Diet Coke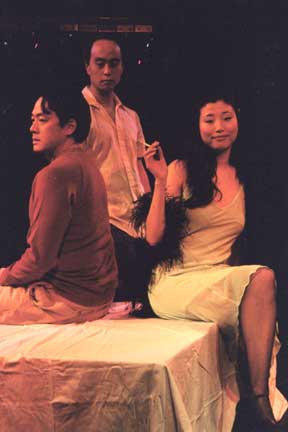 Welcome to the strange and fantastic inner world of Korean surrealist writer Yi Sang. "Yi Sang Counts to Thirteen" re-imagines the darkly ironic, existential, and comic imagination of this brilliant writer of surreal, abstract poems and dark comic short stories. The play is set in a mathematical-theoretical world where Seoul, circa 1937, is grafted onto present day New York. BLUE (who could be Yi Sang) and RED (who could be his best friend) both fall in love with GREEN (an enigmatic woman). While BLUE tries to fly beyond the confines of his world, he finds solace in the fleeting moments shared with RED and GREEN.
Twenty vignettes explore the dynamics of this complex love triangle while imagining the inner psyche of Yi Sang..a fantastic place where body parts assume roles in a detective noir; women perform exquisite ceromonies with Diet Coke; water is of spiritual importance; and the twisted geometry of a Moebius strip symbolizes an excess of subjectivity.
Winner, 2001 FringeNYC
Excellence for Overall Production Award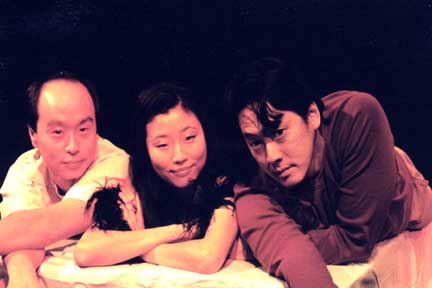 "As accessible as the Diet Coke that provides one of its ongoing metaphors. It is sweet, not too heavy, and has the right amount of fizz to shake things up."..TheaterMania.com
10:30PM
Fridays & Saturdays

January 12th
through February 9th 2002

$15 Adults
$10 Students/Seniors

85 East Fourth Street
First Floor
between 2nd and
3rd Ave (Bowery)
"Funny, morose and delicious to watch but above all, intelligent and professional."..NYTheatre.com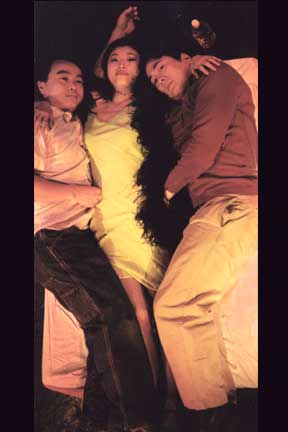 Yi Sang (1910-1937), a kind of Korean Kafka crossed with Rimbaud and Jim Morrison, wrote the bulk of his work in the 1930s while Korea was under the harsh colonial rule of Japan.
Yi Sang (whose name means "strange" in Korean) died at the age of 27 from tuberculosis while incarcerated in a Tokyo jail cell.
One of Korea's most revered writers, Yi Sang wrote poems and stories that resonate across cultural boundaries and still speak to us in fresh and surprising ways.
Starring: Deborah S. Craig* , Paul H. Juhn, C.S. Lee*
Scene & Costume Design: Antje Ellerman
Lighting Design: Josh Bradford
Sound Design: Paolo Gomez;
Prod. Stage Manager: April Kline
Production Manager: Vincent Hokia
Producers: Sung Rno & Helen Yum
*Equity Approved Showcase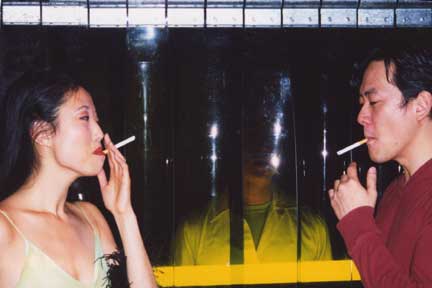 SUNG RNO's other plays include Cleveland Raining, Gravity Falls From Trees, Drizzle And Other Stories, Principia, New World and Infinitude. His work has been produced at East West Players, Asian American Theater Company, Thick Description, Yale Cabaret and Ma-Yi Theater. He has a B.A. from Harvard University, an M.F.A. from Brown University and is a Dramatists Guild member. Yi Sang Counts To Thirteen had its debut in Seoul, Korea at the Seoul Theater Festival 2000..directed by Lee Breuer (co-artistic director of Mabou Mines, where Rno was a resident artist in 1999). In 2002, Rno's play wAve will be produced at North West Asian American Theater in Seattle.
MOCADOR PRODUCTIONS was founded in 2000 with the goal of discovering new language, uncovering hidden symbols, and reformulating cultural gestures .. then translating them into challenging and entertaining forms of expression.



Copyright 2002 Makaha Bay Design
Designer: Kimo DeSean
Listing updates, Schedule changes or Site feedback:
email:kimo@MakahaBay.net